E-Commerce Component
Meteora 2.7 arrives. The surprise is the new E-Commerce component.
The new release of our content management system, as well as fix some minor bugs and small but important improvements in the interface, will be the first to host the new module E-Commerce!
We've worked hard to create a fantastic e-commerce component. The component is compatible with version 2.7 or later and respects and meets the needs of the majority of the case studies and the companies who want to start selling on the internet.
In a short time we can finally provide high-performance web sites, with graphics cured, effective to sell online.
All with a complete and efficient management of the contents.
After much work we are confident to say that once again will be an opportunity to innovate.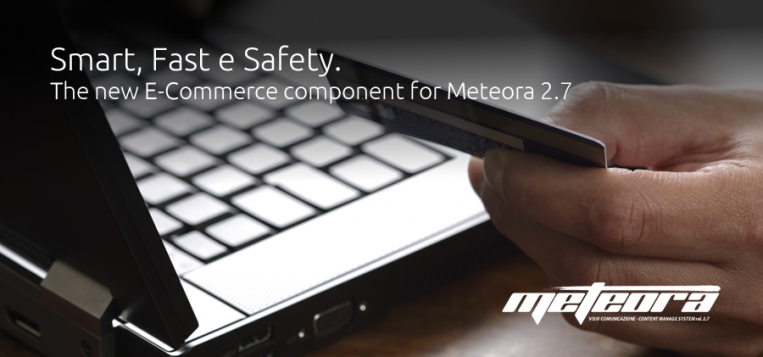 A preview?
The E-Commerce component allow you to manage in a section devoted to all aspects of production related to electronic commerce:
Managing an unrestricted Categories ordered with drag'n'drop
Management Product Sheets and unlimited management of "recommended products"
Native integration circuit payment via PayPal
Integrated management of currencies via PayPal
Management of the types of Shipping
Managing Orders and Transactions
All this with ease of use.
Many similar products are on the market but often require the intervention of technicians or developers to adapt the product to the needs of each customer.
Meteora CMS instead follows a different logic.
It's designed for end customers and therefore easy to use and above all ready to use.
Will integrate with the front-end (public site) developed specifically for the customer and will follow the same logic of "Skin" used for informative sections, the heart of our CMS